We just wanted to pop in here before the first month of the new year passed us by! The Holiday season was wonderful and we do hope that you found plenty of time to stitch during all your family festivities. In the midst of the holiday rush, isn't it nice to know we have a place to retreat to . . . whatever that is for you!
Do you have a special stitching studio, a favorite corner in your home, a favorite chair to snuggle in and stitch? Wherever it is, we hope there are bags full of WIPS and a list of future projects you just can't wait to dive into! It is our sincere wish here at Dyeing to Stitch that your new year be filled with all the good stuff and lots of stitching in your project bags to dive into!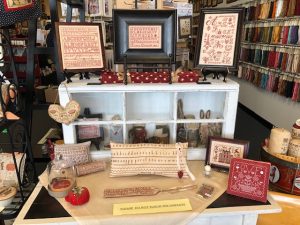 You may have recently seen our IG post! As you enter the store we have this lovely display! We LOVE red, so come by for a visit and be inspired by all we have to offer you! We are here to help you select your next stitching project!
Here are just a few projects for your enjoyment: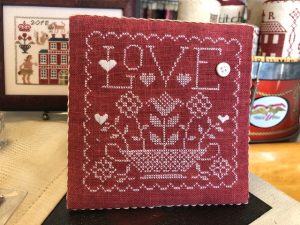 Love Sweet Love by Waxing Moon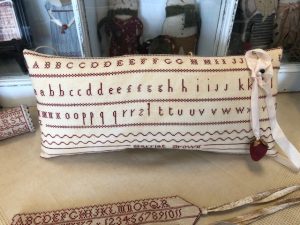 Harriet Brown Redwork Sampler by Stacy Nash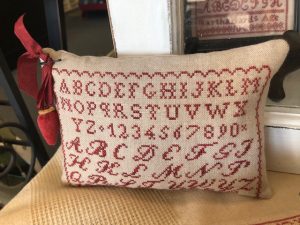 Little Redwork Pinkeep by Stacy Nash
LATEST NEWS:
Our 2020 Club News is posted on our website, we are currently offering two this year … All About Berries (featuring Erica Michaels Designs) and Quaint Country Ladies (featuring Pineberry Lane). So many of you have already enrolled and we are excited about that! It's going to be a fun and creative club kit year!
Our spring retreat dates have been set: Mark your calendars for April 16th – 19, 2020 (The details will post this week on our webiste, please read carefully . . . Registration will begin on February 5th!!!!!! ) This year features Paulette from Plum Street Samplers and we can hardly wait!
Other shop news: We have discontinued our Thursday night stitching group at the end of December. This group has been together for 15 years and the friendships formed are so precious to us. We ended with a night of catered delicious food and an our annual ornament exchange … it was a fun time for all! Hope you noticed our new pic on the website of these sweet gals!
We end our post today with a happy photo of two of our favorite guys Tobias and Jake! They traveled from Richmond to be with us recently! They were able to sit at the table and chat, shop for goodies and we could simply enjoy each others company! Their stitching is amazing and they are definitely serious about their needlework! Don't you love this picture … it captured them perfectly! Good to see you guys, come again real soon!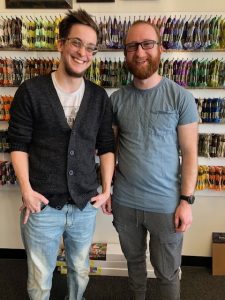 That's it for now! Wishing you a new year filled with love, family and friends, creativity and lots and lots of stitching projects completed! We are busy planning our retreat and sure hope to see many of you there!
All of us here at Dyeing to Stitch!